611 commercial aircraft delivered in 2021

Financials reflect strong operational performance group-wide

Revenues € 52.1 billion; EBIT Adjusted € 4.9 billion; EBIT (reported) € 5.3 billion

Free cash flow before M&A and customer financing € 3.5 billion; Net cash € 7.6 billion

Record net income of € 4.2 billion; EPS (reported) € 5.36

Dividend proposal: € 1.50 per share

2022 guidance issued
Amsterdam, 17 February 2022 – Airbus SE(stock exchange symbol: AIR) reported consolidated Full-Year (FY) 2021financial results and provided guidance for 2022.
"2021 was a year of transition, whereour attention shifted from navigating the pandemic towards recovery and growth.Thanks to the resilience and efforts of our teams, customers and suppliers, wedelivered remarkable full-year results," said Guillaume Faury, Airbus ChiefExecutive Officer. "The strong financials reflect the higher number ofcommercial aircraft deliveries, the good performance of our Helicopters and Defenceand Space businesses as well as our efforts on cost containment andcompetitiveness. Record net income and our efforts to strengthen the net cashposition underpin our proposal to reintroduce dividend payments going forward.At the same time, we continue to invest in our strategic priorities and in thetransformation of our company."
Gross commercial aircraft orderstotalled 771 (2020: 383 aircraft) with net orders of 507 aircraft aftercancellations (2020: 268 aircraft). Included were the first A350 freighterorders, confirming customer demand for this new programme. The order backlogwas 7,082 commercial aircraft on 31 December 2021 (end 2020: 7,184 aircraft).Airbus Helicopters booked 414 net orders (2020: 268 units), achieving abook-to-bill ratio well above 1 both in terms of units and in value. Theseincluded 52 H160s of which 30 were the first batch of H160M military versionsfor France's Joint Light Helicopter programme. Airbus Defence and Space's orderintake by value increased to € 13.7 billion (2020: € 11.9 billion),representing a book-to-bill ratio of around 1.3. Included were key orders inthe Military Aircraft business such as the in-service support of the German andSpanish Eurofighter fleets as well as good export momentum for the C295, A330MRTT and A400M airlifter.
Consolidated order intake byvalue increased to € 62.0 billion (2020: € 33.3 billion) with theconsolidated order book valued at € 398 billion on 31 December2021 (year-end 2020: € 373 billion). The increase in the backlog value mainlyreflected the strengthening US dollar.
Consolidated revenues increased4 percent to € 52.1 billion (2020: € 49.9 billion), mainlyreflecting the higher number of commercial aircraft deliveries, partiallyoffset by less favourable foreign exchange rates. A total of 611 commercialaircraft were delivered (2020: 566 aircraft), comprising 50 A220s, 483 A320Family, 18 A330s(1), 55 A350s and 5 A380s. Revenues generated by Airbus'commercial aircraft activities increased 6 percent, largely reflecting thehigher deliveries compared to 2020. Airbus Helicopters delivered 338 units(2020: 300 units), including the first H160, with revenues rising 4 percentreflecting growth in services and the higher deliveries. Revenues at AirbusDefence and Space decreased by 2 percent, mainly driven by Military Aircraft,partially offset by Space Systems. Eight A400M aircraft were delivered in 2021.
Consolidated EBIT Adjusted –an alternative performance measure and key indicator capturing theunderlying business margin by excluding material charges or profits caused bymovements in provisions related to programmes, restructuring or foreignexchange impacts as well as capital gains/losses from the disposal andacquisition of businesses – was € 4,865 million (2020: € 1,706 million).
The EBIT Adjusted related to Airbus'commercial aircraft activities increased to € 3,570 million (2020: € 618million), mainly driven by the delivery performance and efforts on costcontainment and competitiveness.
Commercial aircraft production isprogressing in line with previously announced plans, in a complex environment.Specifically on the A320 Family, the ramp-up is on trajectory to achieve rate65 by summer 2023 and the Company continues to de-risk notably by enabling allassembly sites to become A321-ready. For A320 Family production rates beyond2023, the Company is still in the assessment phase and working with suppliersto potentially enable an increase above rate 65.
Airbus Helicopters' EBIT Adjustedincreased to € 535 million (2020: € 471 million), mainly driven by support andservices, programme execution and cost focus.
EBIT Adjusted at Airbus Defence andSpace increased to € 696 million (2020: € 660 million), reflecting continuedcost containment.
On the A400M programme, developmentactivities continued toward achieving the revised capability roadmap. Retrofitactivities are progressing in close alignment with the customer. In the fourthquarter of 2021, a charge of € 0.2 billion was recorded mainly reflecting theupdated estimates of the delivery pattern of the launch contract. This isreflected in EBIT reported.
Consolidated self-financedR&D expenses totalled € 2,746 million (2020: € 2,858million).
Consolidated EBIT (reported) amountedto € 5,342 million (2020: € -510 million), including net Adjustments of € +477million.
These Adjustments comprised:
€ +274 million related to the A380 programme, of which € +84 million were in Q4;

€ +122 million gain from the sale of one site in France, recorded in Q4;

€ -212 million related to the A400M, of which € -209 million were in Q4;

€ -38 million negative impact from foreign exchange and balance sheet revaluation, of which € +127 million were in Q4;

€ +331 million of other Adjustments including mainly around € 0.2 billion of provision release related to the restructuring plan, and payments by suppliers. € +285 million were booked in Q4.
The financial result was € -315million (2020: € -620 million). It mainly reflects the net interest result of €-246 million as well as the revaluation of financial instruments and of certainequity investments. Consolidated net income(2) was € 4,213million (2020 net loss: € -1,133 million) with consolidated reported earningsper share of € 5.36 (2020 loss per share: € -1.45).
Consolidated free cash flow beforeM&A and customer financing was € 3,515 million (2020:€ -6,935 million), reflecting efforts on cash containment and a decrease inworking capital, mainly driven by inventory improvement. Consolidated freecash flow was € 3,511 million (2020: € -7,362 million).
On 31 December 2021, the grosscash position stood at € 22.7 billion (year-end 2020: € 21.4 billion)with a consolidated net cash position of € 7.6 billion(year-end 2020: € 4.3 billion). The Company's liquidity position remainsstrong, standing at € 28.7 billion at the end of 2021.
The Board of Directors will propose thepayment of a 2021 dividend of € 1.50 per share to the 2022 Annual GeneralMeeting. The payment date is 21 April 2022.
Outlook
As the basis for its 2022 guidance, the Companyassumes no further disruptions to the world economy, air traffic, the Company'sinternal operations, and its ability to deliver products and services.
The Company's 2022 guidance is beforeM&A.
On that basis, the Company targets toachieve in 2022 around:
720 commercial aircraft deliveries;
EBIT Adjusted of € 5.5 billion;
Free Cash Flow before M&A andCustomer Financing of € 3.5 billion.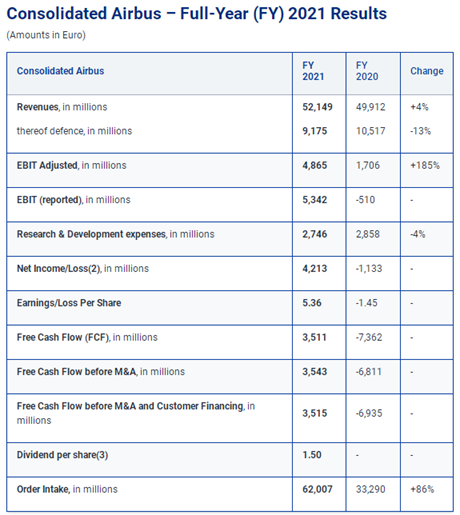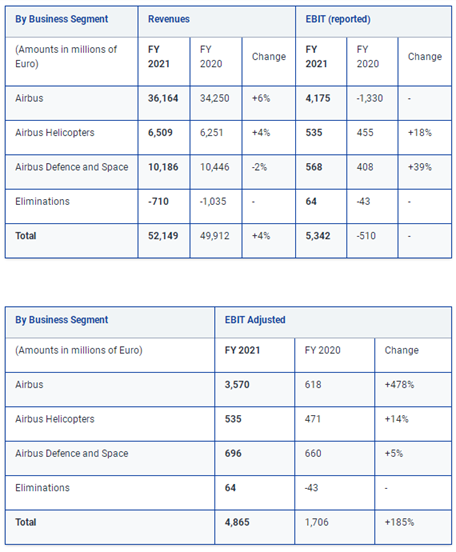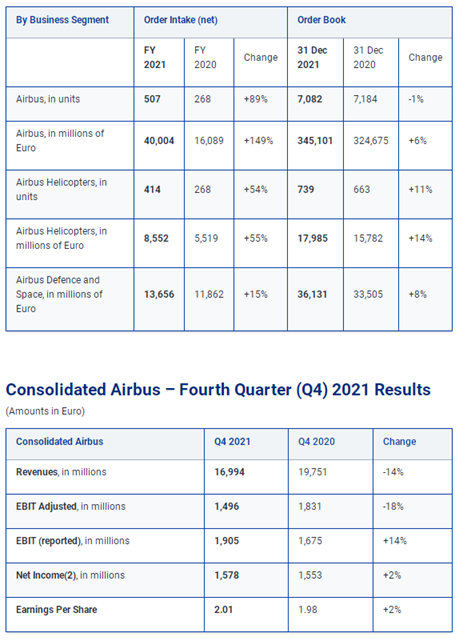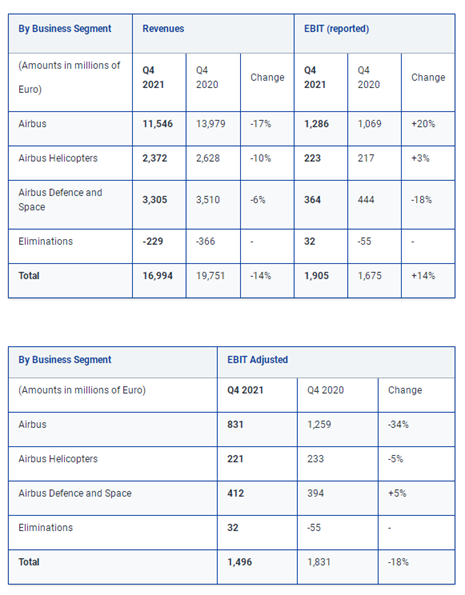 Q4 2021 revenues decreased by 14%, mainly driven by lower commercial aircraftdeliveries compared to the fourth quarter of 2020 as well as lower revenues atAirbus Helicopters and at Airbus Defence and Space.
Q4 2021 EBITAdjusted declined by 18% to € 1,496 million, mainlyreflecting the lower commercial aircraft deliveries as well as a negativeyear-on-year impact from currency hedging.
Q4 2021 EBIT(reported) of € 1,905 million included netAdjustments of € +409 million. Net Adjustments in the fourth quarter of 2020 amountedto € -156 million.
Q4 2021 NetIncome of € 1,578 million mainly reflectsthe EBIT (reported), € -143 million from the financial result and the loweffective tax rate.