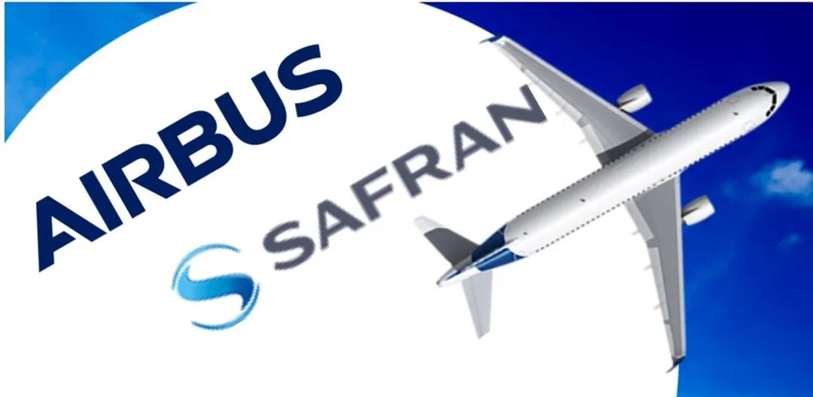 Introduction: OnMarch 31, 2022, IASC and the European Aviation Cluster Alliance EACP co-hostedthe "6+365" series of online meetings at the Expo (see the publicarticle "The first conference of the year, the European and Chineseaviation clusters talked about the key points"). Alexis GONZALEZ CHIAPPE,responsible for purchasing in China and East Asia, and Andy Wang, DeputyGeneral Manager of Safran China, talked about the company's efforts to developthe Chinese market and build a localized aviation industry chain.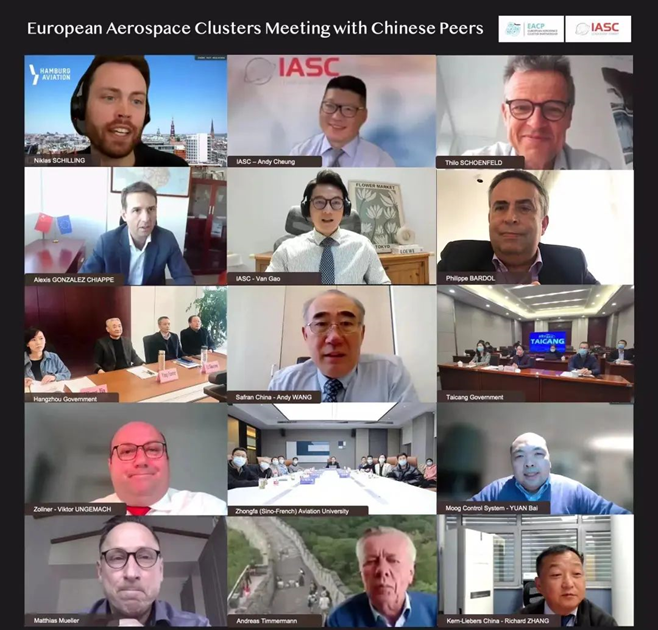 Group photo of onlinemeeting
1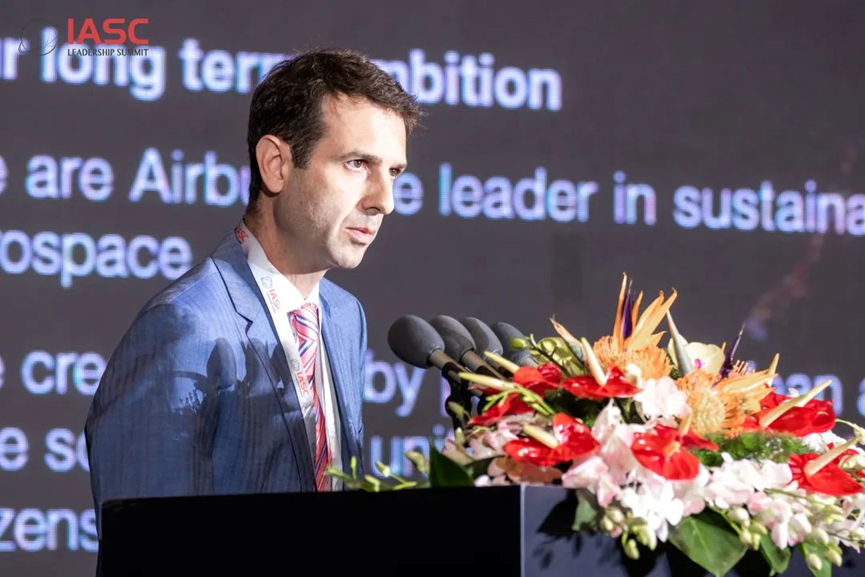 Head of Purchasing forAirbus in China and East Asia, Alexis GONZALEZ CHIAPPE
Airbus now accounts forapproximately 20% of global aircraft deliveries in China, and its market sharein China is growing year on year, on a par with Boeing. China is of increasingstrategic importance to Airbus, not only as a customer and supplier, but alsoas an important strategic partner for Airbus.
Since entering the Chinese market, Airbus has beenexploring local development and strengthening multi-dimensional cooperationwith the Chinese aviation industry in multiple fields. The areas coverinnovation development, engineering design, material processing, manufacturing,final assembly manufacturing, aviation training and after-sales support,covering the whole life cycle of the aircraft.
In 2008, the A320 single-aisle assembly line was opened inTianjin, which is the first assembly line of Airbus outside Europe. 2017, thenew A330 completion and delivery center was also delivered in Tianjin, which isthe first wide-body completion and delivery center of Airbus outside Europe.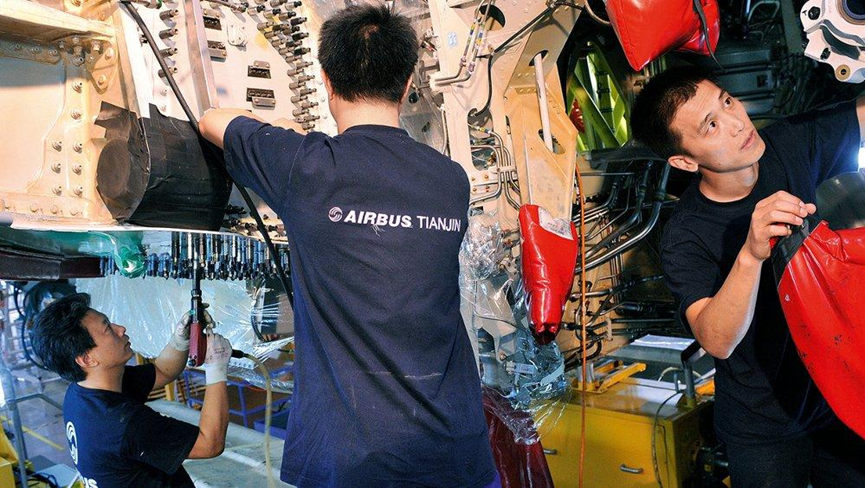 Image source: Airbuswebsite
Airbus has established a fairly mature industry chain system in China,with several high value-added jobs, including main work packages andsubcontracts for wing and fuselage manufacturing, done in China.
In addition, 2019 saw the inauguration ofthe Airbus China Innovation Center in Shenzhen, the first Airbus innovationcenter in Asia. 2022 saw the announcement of an aircraft full lifecycle servicecenter in Chengdu to meet the growing demand for end-to-end support.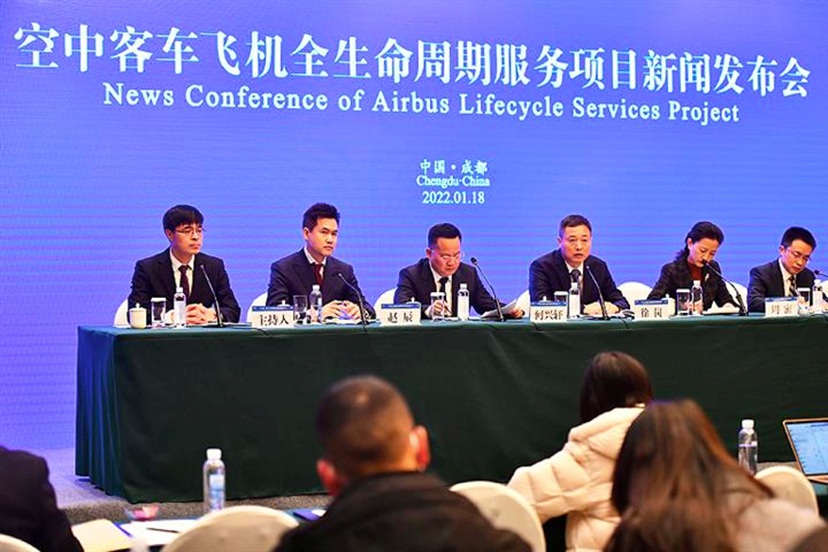 Image source: Chengdu government website
Airbus continues to increase its investment andcooperation in China's local aviation industry chain against the backdrop ofthe country's continuously increasing production capacity and broad marketprospects.
First of all, China is now the mostimportant single country market for Airbus. First of all, China is now the mostimportant single market for Airbus. Airbus accounts for more than 20% of itsglobal aircraft deliveries in China, including the A320, A330 and A350. This isa significant share.
Image source: Airbus website
Second, China now has about 2,000 Airbus aircraft, andaccording to industry forecasts, China will acquire nearly 9,000 aircraft overthe next 20 years, worth about $300 billion. Statistics show that according tothe ratio of Airbus to Boeing aircraft in the Chinese market in 2021 isestimated to be about 1:1, and taking into account the impact of the rise ofChina's local aircraft manufacturers, then the Chinese market will purchasenearly 4,000 aircraft from Airbus in the next 20 years.
Therefore, Airbus needs to further lay outits local industry chain in China and continue to increase its development andinfluence in China to meet the growing demand and industrial development ofChina's aviation industry. For example, the A220 project will advanceexponentially in the coming years, and China's participation in the fuselageassembly part of this project is currently quite high, which alone willsignificantly boost Airbus' continued presence in China.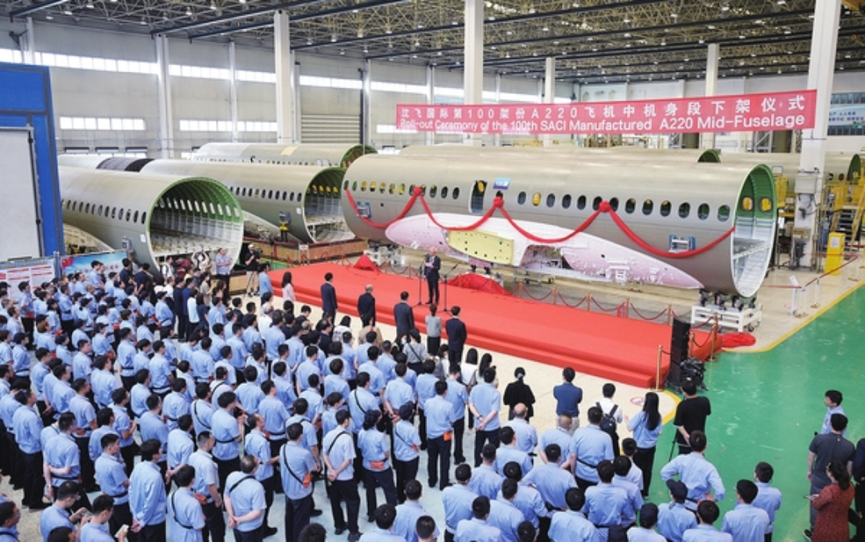 Image source:AVIC-ENG
Airbus is still a globalized industry chainmodel, of which China's aviation manufacturing industry is also a part. At thisstage, it still relies on the global supply chain to meet the needs of Chinesesuppliers, which means that a large part of the raw materials and componentsfor aircraft delivered in China are covered by suppliers from all over theworld.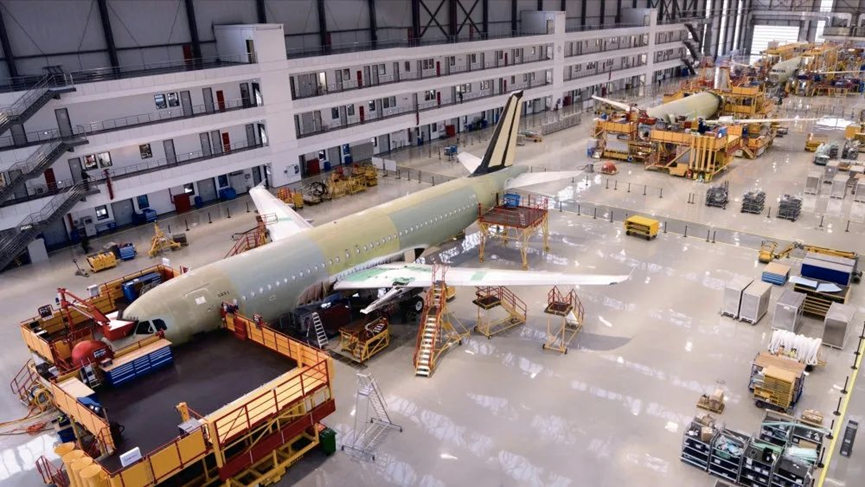 Image source: TianjinFree Trade Zone website
There is a growing need to further promote local sourcing in order topursue sustainable green aviation goals, while also reducing import and exportrisks as well as optimizing processes and reducing costs.
Whether it is for the current demand ofaviation structural parts or the green aviation technologies such as hydrogenenergy and sustainable aviation fuel that will make a splash in the future,there is an urgent need to establish a localized aviation supply chain ecologythat takes from and uses, and it is a great time for foreign small andmedium-sized suppliers to join the Chinese aviation industry chain.
2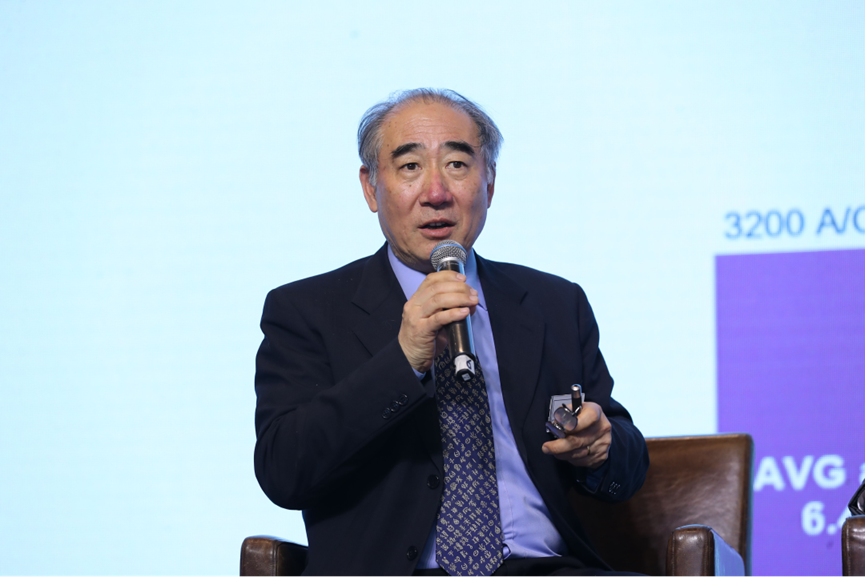 Andy Wang, VicePresident, Safran China
In addition to being an aircraftmanufacturer, Safran is the third largest aerospace company in the world, withoperations in aviation (propulsion, equipment and interiors), defense andspace, with a core purpose to build a safer and more sustainable world, makingair transport more environmentally friendly, comfortable and convenient.
Safran has been deeply involved in China fordecades. More than 70% of the narrow-body aircraft in service and on order inGreater China are or will soon be powered by CFM56/LEAP family engines. Inaddition, about 50% of commercial aircraft operating in China are equipped withSafran landing gear, wheels and brakes; more than 25% of all Chinese civilaircraft are equipped with Safran Nacelles products.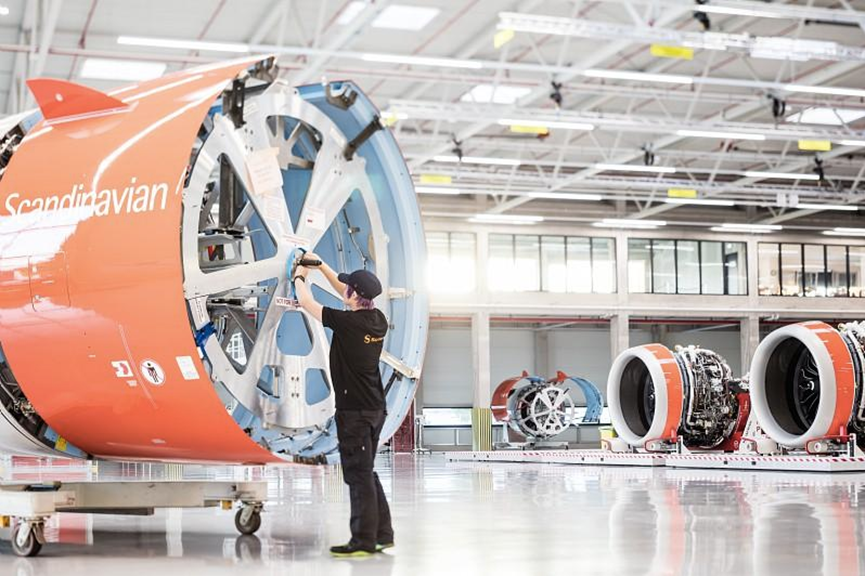 Image source: Safran website
Safran is also involved in all types of Chinese indigenous civil aircraftprograms, including the C919, ARJ21, Xinzhou 700, 600 and 60, as well ashelicopter and engine programs such as AC311A, AC312, AC352 helicopters andturboshaft 16 engines.
Over the past 40 years, Safran has beenfully involved in China's aviation industry chain and is deeply involved in theChinese market. Today, with more than 20 entities, over 2,000 employees, 6production plants, 3 MRO bases, 1 training center, 1 joint venture in research,numerous subsidiaries and business support teams, Safran is able to providetimely and local services to its customers.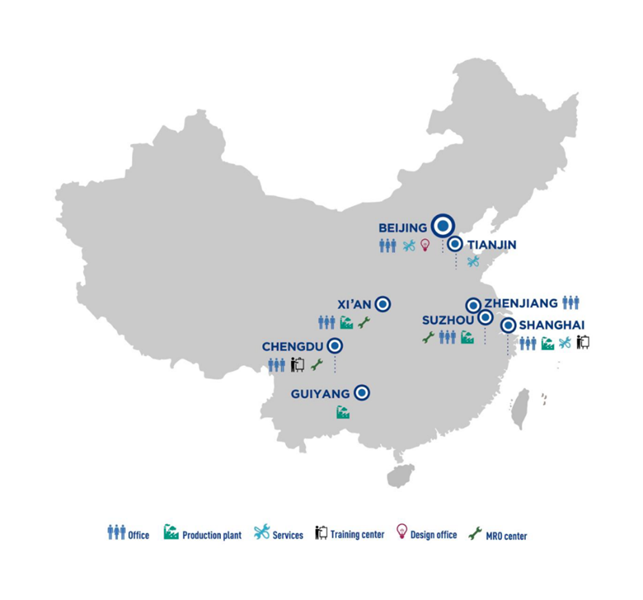 Image source: Safranwebsite
The Chinese aviation market will be one ofthe most dynamic and fastest growing in the world for the next 20 years, andbeyond. Safran China's long-term strategy for its industrial chain is to createa "closer to the customer" Asian industrial chain, with China as thecenter. Two years ago, Safran relocated its landing gear service center inSingapore to China in order to be closer to its customers.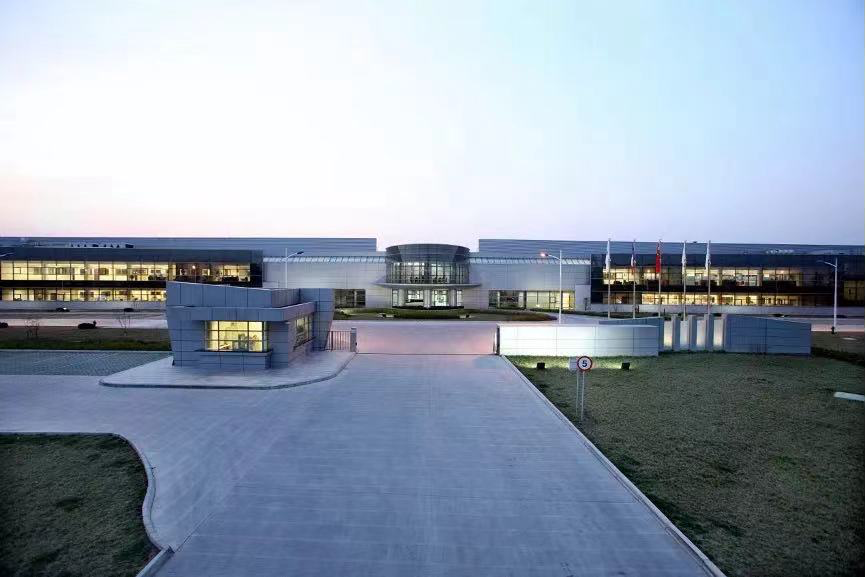 Image source: Safranwebsite
In March, Safran Nacelle announced that itwill build a new MRO project in Suzhou, which will start operations in thesecond quarter of this year, and that this new MRO site will be centered inChina and serve the entire Asian region. At the same time, another MRO projectin China is also in the pipeline.
Even with the impact of the new epidemic and other uncontrollablefactors, Safran will continue to work with its Chinese partners to build a safeand sustainable local aviation industry chain.