The cities around the Yangtze River Delta around the layout of the largeaircraft project will gradually realize gains. The big aircraft project entersa brand new development stage, and will certainly press the accelerating buttonfor the development of the industrial chain in these cities.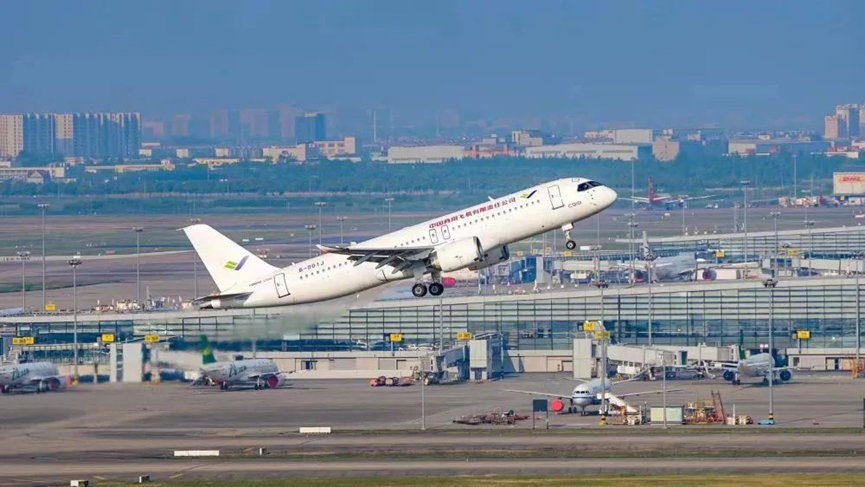 At 6:52 on May 14, the C919aircraft numbered B-001J took off from runway 4 of Shanghai Pudong Airport andlanded safely at 9:54.
On July 19, the C919 large passenger aircraft six testaircraft successfully completed all test flight tasks. "This marks theC919 airworthiness certification work formally entered the closing stage, andbegan to charge full steam ahead to the certification." C919 largepassenger aircraft test flight site joint command Yanliang war zone in the summaryconference stressed.
"The aviation industry is a key strategic emergingindustry that Hangzhou should make every effort to build in the future, andcurrently Hangzhou is focusing on the development of large aircraft keycomponents manufacturing, taking into account the development of aviationservices, aviation research and aviation industry. We welcome more Europeanaviation enterprises to come to Hangzhou for development and cooperation!"At an online exchange meeting of the China-Europe aviation industry held inApril 2022, Yang Fusong, deputy director of Hangzhou Investment PromotionBureau, made a city promotion to aviation clusters from 15 countries, includingFrance, Germany, Britain and Italy, as well as representative companies such asAirbus China and Safran China.
Wang Liping, vice mayor of Taicang, told the online gueststhat Taicang is the city of emerging aviation industry in China's Yangtze RiverDelta, "We have introduced 20 special policies for the development ofaerospace industry innovation clusters in Taicang, and will focus onstrengthening the attraction in the fields of airframe structure, MRO, aviationtraining, and aviation specialty processes in the future".
Both Hangzhou and Taicang prepared full English PPTs tointroduce the city's industrial development base and successful cases offoreign enterprises.
Such a scene is a microcosm of Chinese cities scrambling tolayout aviation manufacturing industry. On the one hand, overseas aviationenterprises are eagerly looking for opportunities in China; on the other hand,a number of Chinese cities such as Hangzhou, Suzhou and Nanjing are taking theaviation manufacturing industry as a strategic emerging industry andaccelerating the layout with all their might.
"With my domestic large aircraft C919 about to enterservice, the unified market of huge demand and enough potential aerospaceindustry chain within a country at the same time, there is huge space fordevelopment. It can be said that China's aviation manufacturing industryushered in the most critical period of growth." Yan Zhenyu, an expert inaviation industry, told Look East Weekly.
At present, in the country to promote industrial upgradingand transformation, and constantly improve the ability to solve the"neck" problem, and constantly improve the localization rate,aerospace-related industries have become a popular track for investment, andthe competition of aviation manufacturing industry between cities has enteredinto white heat.
Emerging cities rise one after another
From a historical perspective, from the layout of theaviation military industry during the Third Line construction period to thedevelopment of the civil aviation industry in the new era, China has graduallyformed a number of aviation industry clusters around civil dry and regionalaircraft, general aviation aircraft and helicopters, drones and otherindustrial fields.
The specific areas include: Beijing-Tianjin-Hebei industrycluster represented by Tianjin and Beijing; Yangtze River Delta industrycluster represented by Shanghai, southern Jiangsu and northern Zhejiang;Southwest industry cluster centered on Sichuan and Guizhou; Pearl River Deltaindustry cluster represented by Zhuhai and Guangzhou; Northeast industrycluster represented by Harbin and Shenyang; Northwest industry clusterrepresented by Xi'an and Hanzhong; Central industry cluster represented byNanchang, Zhuzhou, Changsha and Jingdezhen, etc. Industrial cluster.
At present, one of the most important leading-level projectswithin the domestic aviation industry is the domestic C919 single-aislepassenger aircraft project. "One of the strategic values of the largeaircraft project is to drive the formation of a brand new industry chaincluster, where China's own Toulouse (one of the locations of the Airbusassembly line) and Seattle (one of the locations of the Boeing assembly line)will gradually be presented." Yu Zhanfu, global partner of Roland Berger StrategyConsultants and head of the aerospace manufacturing consulting practice inAsia, told Look East Weekly.
Driven by the batch production and delivery of the C919domestic large aircraft, "the Yangtze River Delta region will develop intoone of the core regions in the direction of industries such as aircraft bodystructures, aero engines, and airborne equipment and systems in thefuture." Yan Zhenyu judgment.
"In addition to the established aviation industry basessuch as Xi'an, Shenyang, Chengdu, Nanchang and Jingdezhen involved in themanufacturing and supply system of the domestic large aircraft, in the YangtzeRiver Delta region alone, there are a number of up-and-coming cities such asSuzhou and Hangzhou rising up around the domestic large aircraft projectclearly and firmly in the planning and development strategy formulation of theaerospace industry cluster." Yan Zhenyu said.
In December 2021, Shanghai announced the "Shanghai CivilAviation Industry Chain Construction Three-Year Action Plan (2022-2024)",proposing to build Shanghai into a civil aviation industry center with globalinfluence by 2035, while collaborating with the Yangtze River Delta to form aworld-class civil aviation industry cluster, for which it will take Shanghai asthe core and extend the Yangtze River Delta, focusing on building an aviationalong the G2 Expressway Industry chain corridor, along the G60 expressway tobuild an aviation science and innovation corridor, and jointly build aworld-class civil aviation industry cluster.
"This will have an obvious driving effect on theaviation industry chain in the Yangtze River Delta region." Yan Zhenyusaid.
In fact, since 2008, when COMAC settled in Shanghai, a numberof cities with more developed manufacturing industries, such as Zhenjiang,Changzhou, Yancheng and Hefei, have started to lay out projects around largeaircraft and other projects, taking aviation manufacturing as a strategicemerging industry, actively attracting investment and starting a dialogue withoverseas industry chains.
"After the launch of the big plane project,Zhenjiang at that time combed through the list of all enterprises eligible forthe big plane project suppliers, and took the initiative to dock with Shanghaifor industry." Zhenjiang related sources, Zhenjiang City in 2009 to investmore than 10 billion yuan in the construction of aerospace industrial park, thesuccessful introduction of the C919 aircraft fuselage rear section manufacturerAerospace Sea Eagle and dozens of enterprises.
In recent years, Jiangsu Suzhou, Wuxi, Changzhou,Nantong, Zhejiang Hangzhou, Jiaxing, Shaoxing, Taizhou, Anhui Wuhu and othercities are also in the layout and construction of related industrial parks.
For example, Wuhu, Anhui Province, after nearly nineyears of development, has formed an industrial cluster of general aviationmanufacturing. 2022 early, Huaxia Yuntian aero engine maintenance projectlanded in Wuhu, the local aviation industry chain can be extended.
Wuxi, Jiangsu Province, the original industrial base ofblade manufacturing, June 21, 2022, Wuxi Aerospace Industrial Park launched andaviation Asia Technology aero-engine key components project started, Wuxi City,aerospace industry into the fast lane of development.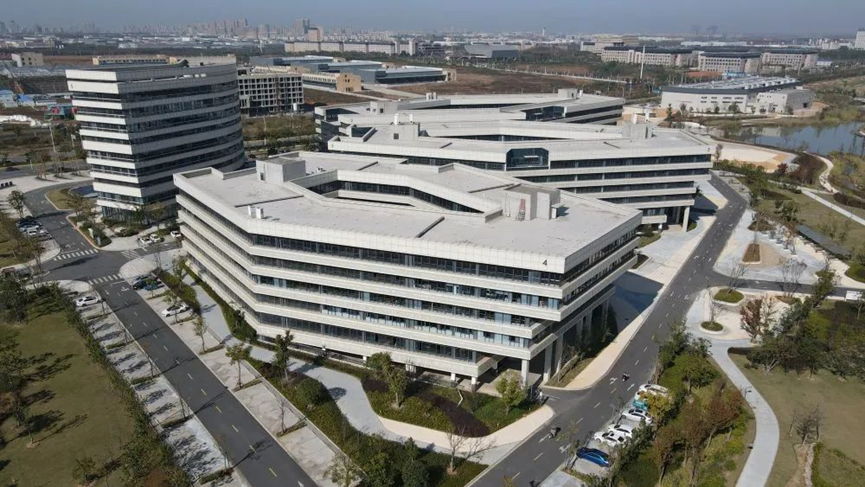 November 15, 2021, Wuhu Aviation Industrial Park in Wuhu City, AnhuiProvince, islet ( Zhang Duan / photo )
"The governmenttakes us to docking."
In 2019, XuHui, executive vice president of Suzhou Huayi Air Power Technology Co., Ltd,officially cooperated with the Taicang Yangtze River Delta Research Instituteof Northwestern Polytechnical University to jointly establish the AviationComplex Pipeline Research Center and build the Taicang Pipeline ManufacturingBase in Taicang Aviation Industry Park.
In this year,Taicang City released the "Taicang Aviation Industry DevelopmentPlan" and proposed to participate in the joint construction of the YangtzeRiver Delta aviation industry innovation chain. Suzhou Huayi Aviation Power, anew company founded only one year ago, has a bigger platform.
"Inaddition to industrial policies, the government also helped us dock moreresources." Xu Hui recalls, "At that time, after the chairman ofCOMAC and Suzhou city government leaders had visited our company the day before,the next day the leaders of Taicang City Bureau of Industry and InformationTechnology took us to dock with COMAC, hoping to join their supplier list inthe future."
From theplanning point of view, Suzhou's development focus is very fine, divided intofive areas such as large aircraft industry, aerospace industry, generalaviation industry, aviation intelligent equipment, and aviation functionalservices.
"Suzhouwas originally a more concentrated area of civil aviation manufacturing, withnumerous foreign-funded enterprises in the aviation manufacturing field,forming a better industrial base." Yan Zhenyu said, "Suzhou'saviation industry planning is very clear, and the aviation industry chain inSuzhou will be thicker during the window period of industrialization ofdomestic large aircraft. In addition to industrial manufacturing projects, thelanding of the Taicang campus of XITU (Zhihui Port) and Airbus China R&DCenter also forms the advantage of the system of production, learning andresearch."
Hangzhou hasalso set its sights on the aviation track early, and since the"matchmaking" at the aviation-themed summit accompanying the Fair in2018, the Hangzhou Investment Promotion Bureau has maintained closecommunication with the IASC international aviation industry chain.
In 2019,Hangzhou proposed the "New Manufacturing Plan", and the aviationmanufacturing industry is expected to become a driving force to promote thetransformation and upgrading of Hangzhou manufacturing.
In 2021, the"Fourteenth Five-Year Plan" for the development of the aerospaceindustry in Zhejiang Province set the tone of development: "Focus onHangzhou and Zhoushan, focus on COMAC and Boeing industry chain, and strive forARJ21, C919, CR929 and other large mainline aircraft and regional aircraftindustry chain major strategic project layout."
"Taicanghas the Taicang campus of Northwestern Polytechnic University and the YangtzeRiver Delta Research Institute, while Hangzhou has the Sino-French AviationUniversity and the Hangzhou Innovation Research Institute of Beijing Universityof Aeronautics and Astronautics." Yan Zhenyu said that Hangzhou has morehigh-capacity industrial platforms, for example, backed by Xiaoshan Airport,Hangzhou Airline Economic Demonstration Zone is China's ninth national airlineeconomic demonstration zone; Hangzhou Qiantang District's Advance Wisdom Parkis one of the "10,000 mu 100 billion" new platforms cultivated byZhejiang Province.
"Comparedwith Hangzhou, Suzhou and other rookie cities that have actively expanded theiraerospace industry chain in recent years, Nanjing has a deeper aerospaceindustry chain and a good industrial foundation." Yan Zhenyu said, Nanjingnot only has Nanjing University of Aeronautics and Astronautics and otherwell-known institutions of higher learning, there are many from the"national team" of aerospace enterprises rooted, such as aviationindustry Nanjing electromechanical, aviation industry Hongguang, NanjingChenming Group, CEC 14, Sinoma Science and Technology, etc..
Nanjing"fourteen five" planning outline proposed that the local will be inthe future network, aerospace, block chain, quantum information, security andemergency, brain science and other frontier areas to take the lead in theformation of a number of future industry clusters, the future industry scale ofan average annual growth of more than 20%.
In thecontext of accelerated layout of multiple cities, the agglomeration effect ofaviation industry is strengthening. According to aviation industry networkstatistics, under the multiple influences of relevant national policies andindustrial preferences, 2021 is the historical peak of the number of listedChinese aerospace companies.
This is alsoconsistent with Xu Hui's observation: "In 2020, our output value will be 8million yuan, and in 2021 the output value will be 20 million yuan, doublingevery year. According to the current industrial development situation, we planto reach an output value of 200 million yuan in the next three years and 500 millionyuan in five years."
"Eventually,relying on the technical advantages of the research institute in the R&Dcenter of complex aviation piping systems and industrialization, we havesuccessfully become a supporting supplier of highly reliable piping foraerospace enterprises such as China Commercial Development, China CommercialAviation, Aviation Industry and Aerospace Science and Industry." Xu Huisaid, "In R&D, we have made breakthroughs in some core technologiesafter the accumulation of 973 projects and years of continuous research innational projects, and even succeeded in breaking foreign monopolies."
There will be a new breakthrough in the industry chain
"Withthe future commercial delivery of the first C919 and the more exciting prospectof the entire industrial chain supporting the C919 project presented, China'saviation manufacturing industry will usher in an exciting round of breakthroughdevelopment." Yu Zhanfu said.
"Afterthe first C919 commercial delivery, the annual production capacity of the C919production line of 150 units will be activated gradually, and the wholeaviation industry supply chain and delivery link will gradually enter into amore rapid and compact operation according to the established mode, and theaviation manufacturing industry chain, which has undergone a huge layout formany years, will really start to play an effective role." Yu Zhanfu said.
After manyyears, the huge layout of the aviation industry chain is what exactly?
The supplychain of the aerospace industry contains the most complex industrial system inhuman history, and the industry chain is highly vertical, showing a "datenucleus shape" instead of the general sense of "pyramid shape",Yan Zhenyu said: "The aerospace industry, the Commercial AircraftCorporation of China, Boeing, Airbus is the top of the date nucleus point end,the industry chain leading enterprises are mostly located in the upper half ofthe date nucleus."
Traditionally,China's aerospace industry chain enterprises are concentrated in the northeast,northwest and southwest. But from the number of listed enterprises in theaerospace industry chain by province geographical distribution, there are alsosome new trends: the top ranking is Jiangsu, followed by Beijing, Guangdong,Shaanxi, Sichuan and Zhejiang, all with ten and more listed companies in theaerospace industry chain. "Jiangsu and Guangdong ranked first and third interms of the number of related enterprises, inseparable from their developedequipment manufacturing base and numerous listed companies." Yan Zhenyusaid, "The Yangtze River Delta and the Guangdong, Hong Kong and MacaoGreater Bay Area have great potential for development."
In terms ofspatial distribution density, Beijing is the most densely populated provincialadministrative region for listed companies in the aerospace industry, which notonly has the advantage of unique national headquarters resources and capitalgathering advantages, but also has outstanding advantages in scientific andtechnological talents, entrepreneurial talents, strong R&D strength, andhas a better mechanism for scientific and technological innovation andinvestment, which is conducive to the relevant listed companies to build corecapabilities, dock to the capital market and serve both military and civillines. "A supporting evidence is that there are seven listed enterprisesin Beijing in the field of airborne equipment and systems alone." YanZhenyu said.
From theperspective of industry segmentation, "material products are highlyversatile and have a wide range of customers, with huge growth space. It can beforeseen that in China's engine is becoming more mature, air and space in onecontinuous development of the industrial wave, the material class field willcertainly produce a number of new listed companies". Yan Zhenyu believesthat "at the same time more and more leading enterprises outside theindustry are also actively involved in the development of the industry chain,this field will certainly usher in more competition and cooperation."
"Aircraft research and developmentis a long-term and full of uncertainty process, the supplier will even in theresearch and development stage with joint research and development,benefit-sharing mechanism deep participation, in a long time only input but nocommercial income." Yu Zhanfu said, "With the advent of the era ofmass production of domestic large aircraft, this will be a formal payback stagefor a large amount of time, manpower and financial resources invested in thewhole chain of enterprises in the early stage. The realistic income cash flowwill bring a great boost to the operational status of the suppliers in thewhole industry chain, while the constant demand for upgrades and improvementsas technology progresses will significantly shorten the R&D cycle on thebasis of the existing aircraft platform, attracting more companies to focus onor even open new business lines to join the aviation manufacturingindustry."
"Thecities around the Yangtze River Delta that are laid out around the largeaircraft project will gradually realize gains. The big aircraft project entersa brand new development stage, and will certainly press the accelerator buttonfor the development of the industrial chain in these cities." Yu Zhanfusaid, Shanghai and even the whole Yangtze River Delta will have a new, largevolume, high output value, technology refined manufacturing growth pole.
"In the future, not only the aviation manufacturing industrychain operation speed, related quality and rhythm management into a series ofinternal optimization progression stage, but also will form a huge pull on theprofessional logistics and professional finance between suppliers and assemblyplants, as well as professional finance and legal affairs between assemblyenterprises and downstream customers (airline companies and aircraft leasingcompanies) and other industrial fields. " Yu Zhanfu predicted.
From the perspective of urban development, around thecompetition to introduce aviation industry policies, will there be a state ofvicious competition?
Yan Zhenyu believes that there is indeed the problem ofhomogenization of some industrial policies and planning. But as a whole, theaviation industry is still in the initial development stage ofindustrialization and marketization, whether it is the aviation industry itselfor the radiation industry around the aviation industry, there is hugedevelopment space. When introducing aviation industry policies, localgovernments can play their comparative advantages and find the best entry pointwith their own cities and industrial chains.
"The government's gradual improvement of knowledgeand understanding of the aviation industry will be the key to scientificdecision-making and differentiated development." Yan Zhenyu said.