Trillion industry chain behind C919: Shanghai, Jiangsubecome the strongest region of aviation manufacturing? How do the oldindustrial bases of Shaanxi and Liaoning seize the large aircraft industrychain?
On May 28, thelarge aircraft with registration number B-919A took off from Shanghai HongqiaoAirport and smoothly arrived at Beijing Capital International Airport after atwo-hour flight, which means that the C919 large passenger aircraftsuccessfully completed its first commercial passenger flight.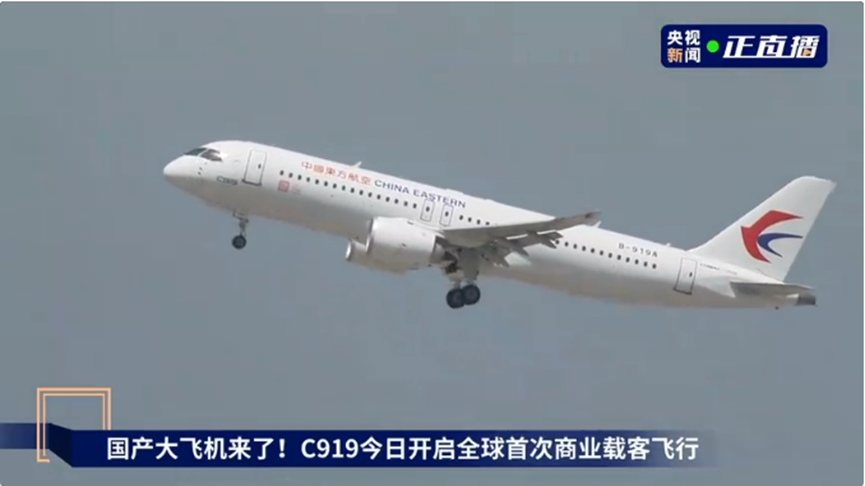 It is reportedthat after this commercial operation, the first C919 large passenger aircraftof China Eastern Airlines, will be in Shanghai Hongqiao - Chengdu Tianfu routeto implement regular commercial operation, the domestic large aircraft in thefuture will become a new choice for the people of China to travel.
Due to thecomplexity and sophistication of the technology, large aircraft manufacturingis known as the "jewel in the crown of industry". The Organizationfor Economic Cooperation and Development (OECD) puts large aircraftmanufacturing at the top of the list of knowledge economy industries.
COMAC statisticsshow that, with Shanghai as the leader, Shaanxi, Sichuan, Jiangxi, Liaoning,Jiangsu and other 22 provinces, more than 200 enterprises, nearly 200,000people involved in the development and production of the C919, 36 universitiesinvolved in technology research, 16 avionics, flight control, power supply,fuel and landing gear, such as Baowu and other 16 material manufacturers and 54manufacturers of standardized parts to become a project supplier or potentialsupplier.
The Yangtze RiverDelta area developed around Shanghai, the Shaanxi area centered on Xi'anYanliang, the Guangdong-Hong Kong-Macao Greater Bay Area area centered onShenzhen-Guangzhou-Zhuhai, the Sichuan area with Chengdu as the main city, andthe Northeast area centered on Shenyang and Harbin are all the main zones ofChina's aviation manufacturing at present, in addition to which, the provincesand cities such as Beijing, Jiangxi, Hubei, Hunan and other provinces and municipalitiesare laying out the aviation manufacturing-related industries.
In the largeaircraft industry chain takes off when, which region can seize the opportunityto dance with it?
01
Shaanxi: an old aviationmanufacturing highland with a full industry chain
In terms of the number and marketcapitalization of existing listed companies in the aviation manufacturingindustry, 18 of the 31 provinces and municipalities in mainland China haveaviation manufacturing and large aircraft manufacturing-related companies.Among them, the strongest is Shaanxi, followed by Jiangsu and Shanghai.
The strength of Shaanxi is reflected inthree aspects.
First, it is the number and market value oflocal listed companies in the field of aviation manufacturing ranked first inthe country, with the whole industry chain of aviation manufacturing. There are14 Shaanxi listed companies involved in aviation manufacturing, and their totalmarket value is 355.9 billion yuan (as of May 26, 2023), ranking first in thecountry.
Among the 14 listed companies, there aretitanium alloy material producers in the upper reaches of the industry chain,such as Western Superconductor (688122) and BaoTi (600456), and raw materials,components and forging enterprises such as aerospace and ship alloy forgingstechnology company Triangle Defense (300775), as well as mid-stream aero-engineproducer AeroDynamics (600893), component producer Lianshi Aviation ( 000697),and downstream complete aircraft factory AVIC Xifei (000768).
The main factor in Shaanxi's complete chainof aviation companies is that it has always been a major aviation industry townin China. As early as 1958, Yanliang, a small town northeast of Xi'an, wasselected as the development base of the aviation industry, the creation of aseventy-two plant (predecessor of AVIC Xifei.) Over the past 60 years, thissmall city in the northwest with a total area of less than 300 squarekilometers, the birth of China's current main military models such as thetransport 20, Boom 6, Air Marshal 2000, known as the cradle of China's heavyaircraft.
Of the 14 companies listed, five have beenin the capital market for more than 20 years. The earliest one is listed on theShenzhen Stock Exchange in 1994 Fiberhome Electronics (000561), whose mainbusiness is the development of military communications equipment andelectro-acoustic products, mainly producing short-wave and ultra-short-wavecommunications equipment and aviation search and rescue positioning equipmentand other products.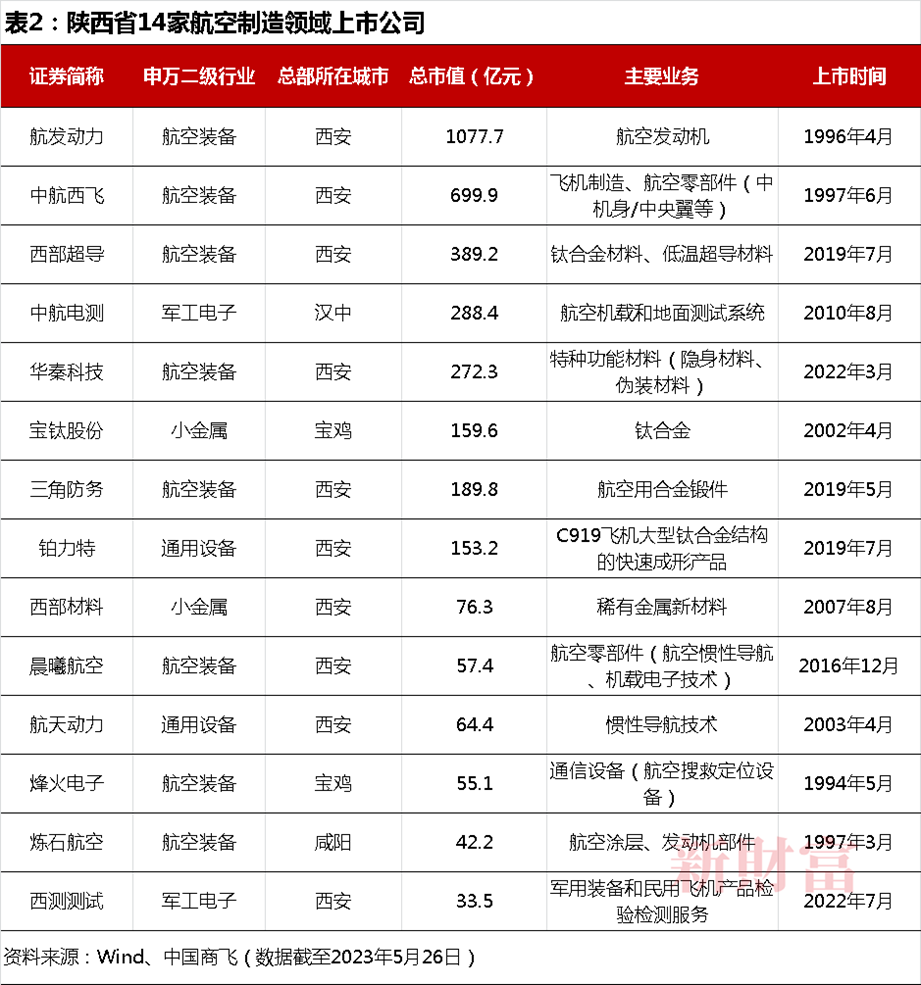 The highest market capitalization isAeroDynamics, its major shareholder is the State-owned Assets Supervision andAdministration Commission of China Aviation Engine Group, AVIC is also one ofits shareholders, and its main business is the development of aircraft engines.
Market capitalization of more than 50billion companies and AVIC Xifei, which is subordinate to the China AviationIndustry Corporation (AVIC). The company's annual report shows that it hasundertaken the manufacture of six major work packages for the C919 and morethan 85% of the components for the ARJ21, specifically, the supply ofstructural parts such as the center fuselage, central wing, ailerons, outerwing boxes and spoilers, with Boeing and Airbus as its customers.
Headquartered in Hanzhong, the aviationindustry group real control enterprise AVIC electric measurement (300114) isthe aviation industry group real control company, listed in 2010, its mainbusiness is the development of military and civilian measurement and controlproducts, including aircraft measurement and control products.
It is worth mentioning that in the firstquarter of 2023, the company announced that it intends to purchase 100% of theequity held by Aviation Industry Group in Chengfei by issuing shares. ChengfeiGroup was founded in 1958, is China's aviation weapons and equipmentdevelopment and production and export of the main base, an importantmanufacturer of civil aircraft parts, but also one of the three major domesticmilitary aircraft manufacturers, has developed and produced J-5, J-7, LordDragon, J-10, J-20 and other series of military aircraft.
Due to the planning of the issue of sharesto buy assets matters there is uncertainty, China aviation electric measurementin the first quarter had a suspension, after the resumption of trading, thecompany's stock from the previous 6.3 billion yuan once soared to more than 30billion yuan. 2023 May 26 the latest announcement disclosed that therestructuring of the due diligence involved in due diligence, auditing,evaluation and other work is continuing to promote, as of the same day, thecompany's total market capitalization of 28.8 billion RMB.
Although Shaanxi is an old aviationmanufacturing base, the internal strength of the deep enterprises are mostlyold state-owned, but in recent years Shaanxi also focus on the originaladvantages of cultivating new. As many as five local aviation manufacturingcompanies have gone public in the past four years.
Among them, the highest market value of thewestern superconductor, which landed on the Science and Technology InnovationBoard in 2019, the prospectus shows that its main product titanium alloy rodsare used in the large-scale load-bearing structural parts of C919. Thecompany's performance in recent years has grown faster, with total revenuegrowing from 967 million yuan in 2017 to 4.227 billion yuan in 2022, anincrease of 4.37 times, and net profit growing from 143 million yuan in 2017 to1.095 billion yuan in 2022, a 5-year increase of 7.66 times.
Huaqin Technology (688281) and West Test(301306), newly listed in 2022, have seen their revenues rise steadily inrecent years. The prospectus of Huaqin Testing shows that it is mainly engagedin the research, development, production and sales of special functionalmaterials, including stealth materials, camouflage materials and protectivematerials, and its revenue has grown from $48 million to $672 million from2018-2022. West Test and Testing's revenue also rose from $130 million in 2018to $304 million in 2022, with its main source of revenue being testing andinspection of aircraft products.
Secondly, Shaanxi enterprises are alsodeeply involved in the manufacturing of the C919.
Known as the "pearl in the crown ofindustry", the aircraft manufacturing industry requires the cooperation ofthousands of departments from design, manufacturing, verification to finaldelivery, and the C919 adopts the mainstream international civil aircraft"main manufacturer-supplier" development model, i.e. COMAC, as themain manufacturer, outsources all the engines, airframes, airborne systems andother major parts, and then carries out a coordinated combination. The C919also adopts the mainstream international civil aircraft "mastermanufacturer-supplier" development model, i.e. COMAC, as the mastermanufacturer, will outsource the engine, airframe, airborne systems and othermajor parts, and then carry out a coordinated combination.
Under this "master-suppliermodel", COMAC has multiple levels of suppliers. The official website showsthat at present it has a total of 120 Type III suppliers, of which 70 aredomestic enterprises and institutes, according to New Fortune.
Class I suppliers are the core finishedparts suppliers, mainly composed of aircraft body structure suppliers, enginesuppliers and major system suppliers, totaling 38. Class II suppliers are thestructural parts suppliers of sub-systems, mainly responsible for partsintegration and subcontracting of small work packages, totaling 25. Class IIIsuppliers are in the upper reaches of the aerospace manufacturing industry,mainly standard parts and raw materials suppliers, providing raw materials forClass I and Class II companies, totaling 57. There are 57 Class I and Class IIsuppliers in total.
Among the 38 Class I suppliers, Shaanxi hasthe largest number, occupying five, in addition, there are one Class IIsupplier and two Class III suppliers in the local area.Class I suppliersinclude AVIC Xifei, Shaanxi Aviation Electric, AVIC Xi'an Institute ofAeronautical Calculating Technology, AVIC Xi'an Institute of Flight Automationand Control, which are involved in the airframe, avionics system, flightcontrol system, electromechanical system, etc., and several important parts inthe C919 airplane are all involved in Shaanxi Province. Several important partsof the C919 airplane are involved in Shaanxi Province.
The AVIC Aircraft Strength ResearchInstitute, headquartered in Yanliang, Xi'an, is also involved in the testing ofthe C919, and has set up a branch in Shanghai to meet the development needs.
Shaanxi's strength is also reflected in thefact that it has the only national-level aerospace manufacturing clusterselected by the Ministry of Industry and Information Technology.2021 In March2021, the Ministry of Industry and Information Technology selected 25 advancedmanufacturing cluster winners across the country, and Xi'an's aerospace clusterbecame the only aerospace manufacturing cluster to be selected. Currently,Xi'an is at the forefront of aircraft research and design, testing andpiloting, and production and manufacturing in the country, and has a relativelycomplete aviation industry chain.
Information from Xi'an Development andReform Commission shows that Xi'an ranks 3rd in the country in the number ofmilitary enterprises and research institutes, and the military industry gathersmore than half of the province's military enterprises, employing more than200,000 people. Of the 14 listed aviation enterprises in Shaanxi, 10 are fromXi'an. Of the more than 650 aviation manufacturing enterprises in ShaanxiProvince, as many as 553, or 85%, are from Xi'an, and the number of registeredenterprises in Yanliang District reaches 348, exceeding the total number ofaviation manufacturing enterprises in most provinces.
In terms of the number of startups in theaerospace manufacturing sector, 323 new companies were established in Shaanxibetween 2017 and late 2022, the second highest number in the country afterJiangsu.
The aggregation effect of the aviationmanufacturing industry in Shaanxi Province is obvious, and the companiescurrently listed are mainly state-owned enterprises, Shaanxi is also focusingon driving the development of more enterprises in the upstream and downstream,and stimulating the vitality of private enterprises.
From the perspective of the primary market,the IPO queue is also the main aviation airborne equipment research anddevelopment of the Xi'an Eagle Air Aviation Technology Co. The company, whichis an enterprise mainly engaged in the manufacturing and maintenance businessof aviation airborne equipment, had been listed on the New Third Board in 2016and received a fundraising of 19.04 million yuan. The IPO intends to raise 700million yuan in a public offering of up to 51.09 million shares of commonstock.
02
Yangtze River Delta: Drivenby Commercial Aviation Headquarters, Aviation Manufacturing Industry in FullBloom
If you ask which region of the country hasbrought the most benefits from the development of the C919 aircraft, the answermust be the Yangtze River Delta.
Shanghai, which has a good industrial base,was bound to aircraft manufacturing in the 1970s. The initial Yun 10 project,by the Shanghai Aircraft Manufacturing Plant as the general assembly, led byhundreds of units across the country to complete together. The establishment ofCOMAC in Shanghai in 2008 led to another major development of the localaviation manufacturing industry.
As the final assembly locations of both theC919 and ARJ21 are in Shanghai, the Yangtze River Delta has the locationaladvantage of being close to the water if materials provided by local orneighboring companies are used, which can significantly reduce transportationcosts.
As early as November 2016, China EasternAirlines (600115), headquartered in Shanghai, signed a user framework agreementwith COMAC, becoming the first contracted customer of C919. It can be said thatevery step of the C919's growth has been closely linked to Shanghai, from theexperimental first flight, to the official acceptance by China EasternAirlines, to the first flight of the commercial operation taking off fromShanghai.
COMAC's 70 domestic suppliers are locatedin 19 provinces across China, of which the Yangtze River Delta (Jiangsu,Zhejiang and Shanghai) occupies 27 seats, accounting for nearly 40%, especiallyJiangsu and Shanghai, which contribute 14 and 10 suppliers respectively,forming a more complete aviation manufacturing industry chain.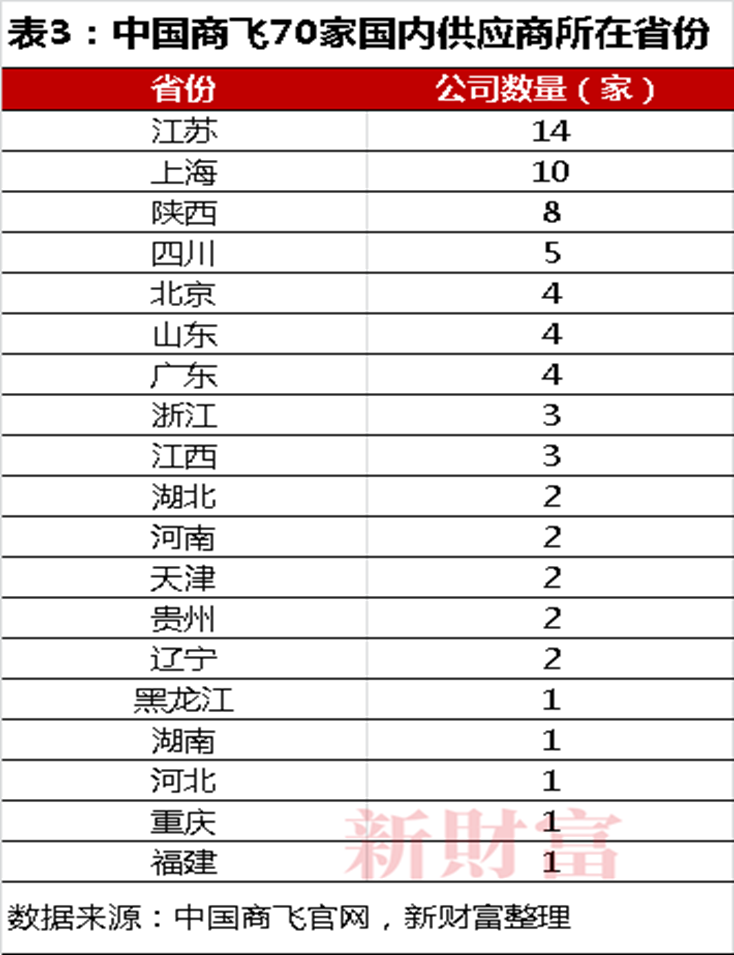 In stark contrast to Shaanxi Province,where there are many companies with state-owned backgrounds in the aviationmanufacturing industry, there are more private and joint venture companieswithin the aviation manufacturing industry in Shanghai and the Yangtze RiverDelta as a whole.
In recent years, nine cities in the YangtzeRiver Delta, including Shanghai, Jiaxing, Hangzhou, Jinhua, Suzhou, Huzhou,Xuancheng, Wuhu and Hefei, have cooperated to create the G60 Science andInnovation Corridor. Yangtze River Delta G60 Science and Technology InnovationCorridor Joint Office Industry Group Leader, Shanghai Songjiang DistrictScience and Technology Development Office Deputy Director Dai Zhiming has beenintroduced in an interview, nine cities nearly 1,000 enterprises have beenincluded in the large aircraft supplier reserve, completed the industrialmaterials field 25 enterprises, 70 kinds of product supply docking, for thelarge aircraft installed equipment field delivery of qualified and potentialsuppliers increased by 30%.
- Shanghai: the scale of production valuewill reach 60 billion yuan
COMAC's suppliers, headquartered inShanghai, a total of 10, including four Class I suppliers. Meanwhile, a numberof joint ventures are also located in Shanghai, including Eaton Shangfei,Shanghai Saifei, and Angji Avionics (Table 4).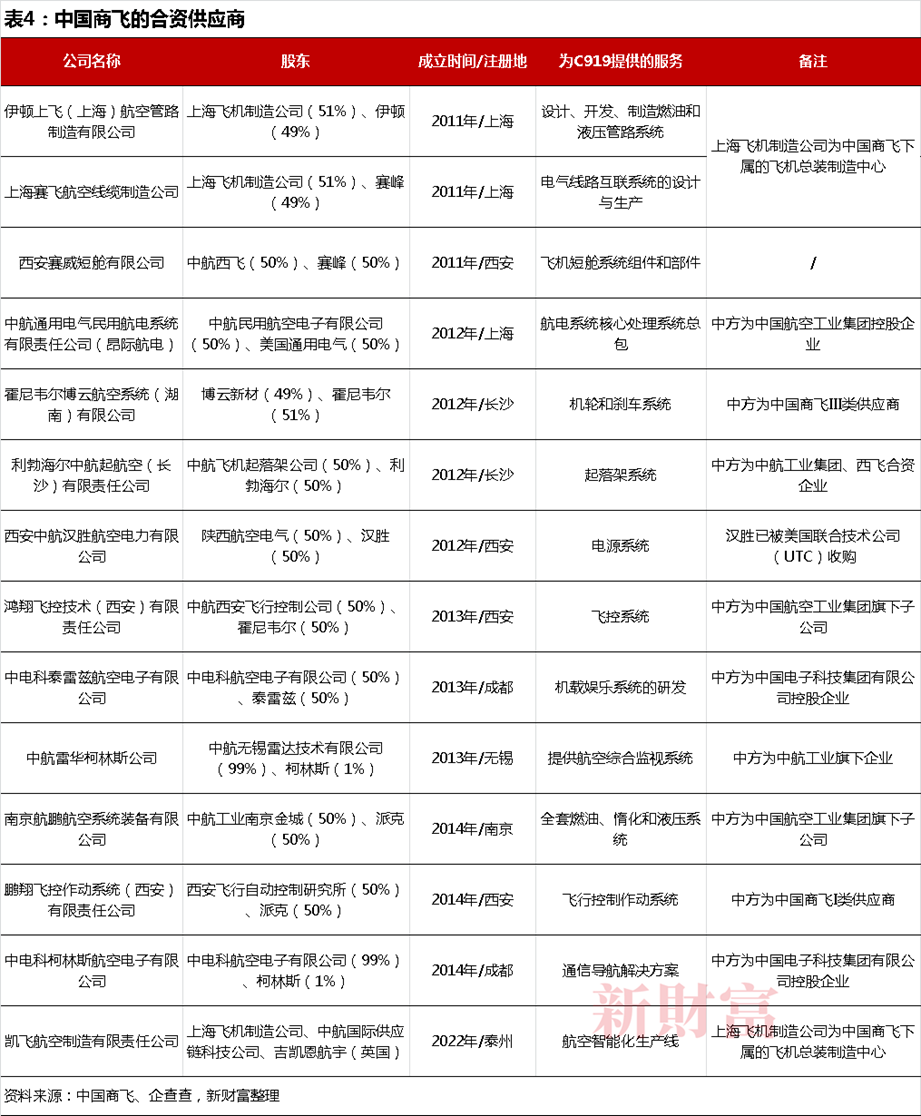 Many of the Chinese headquarters of foreignsuppliers are also located in Shanghai, including General Electric, Honeywell,etc. Honeywell's Asia-Pacific headquarters moved to Shanghai in 2003, and thenset up a China R&D center in Shanghai Zhangjiang Science Park.
In addition to the headquarters, COMAC'sR&D center, supporting industrial base and assembly manufacturing centerare located in Pudong. Relying on the large aircraft industry, Shanghai hasfocused on building an industrial park with aviation characteristics, anaviation manufacturing base and an aviation corridor in the Yangtze RiverDelta. 2020, Shanghai established a large aircraft industrial park in theLingang New Area. According to COMAC's Big Aircraft Newspaper, the park hassigned a total of more than 50 projects over the past 2 years since itsestablishment.
Shanghai's private enterprises are alsomaking a big splash in the aviation manufacturing sector, with businesscovering a number of key segments such as aircraft and engine assembly,fuselage segments, new aviation materials, airborne systems, and aviationlogistics. In the fuselage structural parts, there are on the fly aircraftequipment (delivery of ARJ21 fuselage after large parts), CNBM aviationtechnology; in the new materials, there are Zoomflight Eagle, Nantong Fuyuan,YuZhiHe, Commercial Aviation Composite Material Center, etc.; in the parts andcomponents, there is the Oriental blue sky titanium technology, LinFeiintelligent technology, in the Yang aircraft manufacturing; in the field ofpipeline and cable and the interior interior, gathered AoruoTe, Chongqingre-sheng, GaoBo and so on; In the field of aviation maintenance, ShanghaiCollins Aviation Maintenance Company, Kepen Aviation Technology and othercompanies have gathered.
At present, there are more than 100companies in Shanghai's aviation manufacturing field, but the number of listedcompanies is relatively small. The Three-Year Action Plan for the Constructionof Civil Aviation Industry Chain in Shanghai (2022-2024) proposes that by 2024,the scale of output value of related industries will reach 60 billion yuan, theindependent supply system of key links in the industry chain will beestablished initially, and more than 10 science and technology enterprises willbe cultivated to meet the requirements for listing; at the same time, the localsupporting capacity will reach 20% or more; and by 2035, Shanghai will become acivil aviation industry center with global influence and collaborate with theYangtze River Delta to form a world-class civil aviation industry cluster. By2035, Shanghai will be built into a civil aviation industry center with globalinfluence, and a world-class civil aviation industry cluster will be formed in coordinationwith the Yangtze River Delta.
- Jiangsu and Zhejiang: state-ownedenterprises, local cooperation, the most active private enterprises
Shanghai's large aircraft manufacturing,also driving the development of related industries in the Yangtze River Delta.
At present, Jiangsu's aviationmanufacturing listed companies market value ranked second in the country, atotal of 10, but the lack of high market value enterprises, market value ishigher than the AVIC Industrial Group controlled AVIC Hi-Tech (600862) andChina Aviation Development controlled Air Development Control (000738) twostate-owned enterprises, are more than 30 billion yuan. However, the provincehas a total of six private enterprises, is the aviation private enterprisesaccounted for the largest proportion of the province, showing its privateenterprises active nature.
Among COMAC's suppliers, Jiangsu leads theway, ranking first in the country with 14, with related institutes andcompanies mainly located in three cities, Suzhou, Nanjing and Zhenjiang.
The 14 institutes in Jiangsu basicallycover the whole industry chain upstream and downstream of large aircraftmanufacturing. There are four Class I suppliers in the upstream, includingNanjing Mechanical and Electrical of Aviation Industry, which provides fuel,hydraulic, environmental control and other systems and products for the C919;Aerospace Seahawk, which is responsible for the rear fuselage rear section,rear fuselage front section, aileron, drogue truss and other four work packages;AVIC Nanjing Jincheng, which is responsible for the fuel system, hydraulicsystem, air management system and so on; and Fischer, which is responsible forthe interior of the nacelles.
The midstream and downstream mainly includeJiangsu Meilong Aeronautical Components, a designer and manufacturer ofcomposite interior and structural parts; Taixing Silver Eagle, whose mainbusiness is aircraft cabin interior parts, life-saving floating seat cushionsand flame-retardant seat cushions, etc.; Suzhou Meide, which is mainly engagedin the business of aluminum alloy materials; and Feilukang Rapid ManufacturingTechnology, which is funded by A-share-listed Yinbang Co.
In addition, Jiangsu companies reportedlyinvolved in the COMAC program include Jiangsu An-Use Seat Technology Co. andChangzhou Qifu Antai Composite Material Technology Co.
In terms of startups, Jiangsu is home tonearly 900 aerospace manufacturing-related companies as of the second half of2022, and has seen rapid growth in the last five years, with more than 500 newcompanies added (Table 5). Meanwhile, the local area is at the forefront of thecountry in terms of both the number of suppliers with commercial airlines andthe strength of listed companies.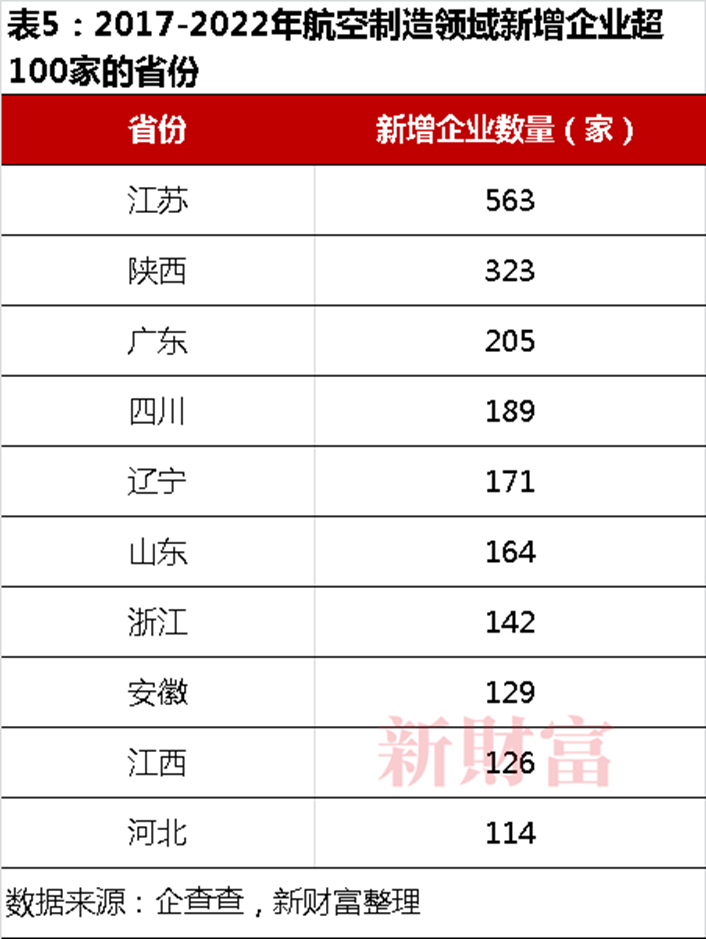 Among the 13 prefecture-level cities inJiangsu, Nanjing, Suzhou and Zhenjiang are the most advanced in the developmentof aviation manufacturing industry.
Nanjing has two COMAC Class I suppliercompanies, with Nanjing University of Aeronautics and Astronautics and otheruniversities, with solid scientific research strength, AVIC Nanjing Jinchengand the United States Parker Aerospace Joint Venture of Nanjing Air PengAviation is also located in Nanjing. In Nanjing's "14th Five-YearPlan", aerospace is a key layout of a major future industry clusters, withan average annual growth plan of more than 20%.
By the end of 2020, Zhenjiangaviation-related enterprises to achieve operating income of 38.04 billion yuan.In the planning of Zhenjiang City, aerospace is one of the eight industrial chainsfocused on building and one of the six strategic emerging industries focused ondevelopment. In recent years, Zhenjiang's aerospace industry has realized therapid development of "from scratch", and the Class I suppliers ofC919, Aerospace Seahawk and Fischer, are both located in Zhenjiang.
In 2011, China Aerospace Science andIndustry Corporation (CASIC) 306 and Zhenjiang High-tech Investment jointlyfunded the formation of Aerospace Seahawk. At that time, Zhenjiang's aviationindustry was still in its infancy, and Zhenjiang provided more than 100 acresof land for Aisino Seahawk to build a plant and promised to use it for 50 yearsfree of charge, and introduced the R&D team from Beijing to Zhenjiang.After 10 years of development, Aisino Seahawk was successfully promoted to thesupplier of C919.
Fischer was also founded in 2011. Thecompany, like most aerospace manufacturers, started as an original equipmentmanufacturer, or OEM, and its OEM product categories were limited. In 10 yearsof development, it has grown into a company that has contracted for a number ofwork packages, including wall panels for Boeing's various models, wing fairingsfor Airbus aircraft, wing fairings for Bombardier aircraft, and has become asupplier of interior work packages for COMAC's ARJ21 and C919.
Taicang, a city under Suzhou, is anemerging aviation industry city in the Yangtze River Delta, which is only 50kilometers away from Shanghai and has natural synergistic advantages.2021 InFebruary 2021, Taicang also signed a strategic cooperation agreement with COMACto build a large aircraft industry chain of innovation. Taicang has not onlyreleased the Aviation Industry Development Plan, but also introduced 20 specialpolicies for the development of aerospace industry innovation clusters, andplans to focus on airframe structures, MRO, aviation training, and aviationspecialty crafts in the future, to strengthen the efforts of attraction.
In April 2023, Jiangsu Province issued theThree-Year Action Plan for the Development of the Aerospace Industry in JiangsuProvince (2023-2025), proposing to build an internationally competitiveaerospace industry cluster around the major national strategic needs of largeairplanes, "two planes" and manned spaceflight. The goal is that by2025, the output value of the province's aerospace industry will exceed 150billion yuan. This shows that the future of Jiangsu will continue to vigorouslyaviation industry.
The same belongs to the Yangtze RiverDelta, Zhejiang, in the field of aviation manufacturing development isrelatively weak, related enterprises are mainly concentrated in Hangzhou andZhoushan.
However, in COMAC's Class I suppliers,there is a private enterprise in Zhejiang Xizi shortlisted, Xizi Spire has won287 certifications from five major international aviation manufacturers, butalso from the side of the aviation industry in Zhejiang, the advantages ofprivate enterprises. In addition, Boeing's factory built in Zhoushan is itsfirst overseas factory, with a production capacity of 100 frames per year.
According to data released by Zhejiang, asof mid-2021, the province's aerospace-related enterprises of all types morethan 100, 2020 to achieve revenue of 10 billion yuan, of which 80% of therevenue of manufacturing enterprises. The province's "aerospace industrydevelopment" 14th Five-Year Plan "proposed that by 2025, the new 3-5aerospace iconic manufacturing projects landed, the new cultivation of morethan 10 initially integrated into the large aircraft manufacturing suppliersystem of 20 private enterprises, the addition of two new aerospace listedcompanies.
03
Northeast: strong in military aviation, short in civilianuse
Another pole of China's aviationmanufacturing industry is located in the northeast. As the "eldest son ofthe Republic", heavy industry is the strength of the three northeasternprovinces. At present, the three northeastern provinces of aviation equipmentmanufacturing city mainly for Shenyang and Harbin.
AVIC Shen Fei belongs to China AviationIndustry Group, is a class of suppliers of the Commercial Aviation Corporationof China, the company announced that it participated in the development andproduction of the C919; AVIC photoelectric one of the suppliers of theCommercial Aviation Corporation of China, the annual report shows that it for theC919 provides integrated equipment mounting bracket and other products, thecompany's first shareholder of the Aviation Industry Group's subsidiaries ofthe AVIC Science and Industry.
Shenyang relies on the development ofindustrial clusters of Shenfei civil aircraft, Harbin has Hafei IndustrialGroup. At the same time, the northeast also has the Shenyang Aircraft DesignInstitute, Shenyang Aviation Engine Research Institute, Harbin AerodynamicResearch Institute and many other aviation research institutes.
Shenyang in the military fighter R & Dand manufacturing has won a number of China's aviation "first", butcivil aviation is its shortcomings.
Shenyang City's "14th Five-YearPlan" puts forward, will carry out civil aircraft large parts integratedmanufacturing, aviation parts and components supporting the application ofmaterials and other major key technology research and development, to promoteShen Fei, Liming and other host factories to the community to release thegeneral production capacity to cultivate strategic suppliers, and theconstruction of the Northeast Aerospace Powertrain Innovation Center (ResearchInstitute), the Gas Turbine Technology Innovation Center and other innovationplatforms.
04
Sichuan: related industry output value of more than 100billion, the development of aviation maintenance
In terms of the number of listed companiesin the aviation sector and the number of suppliers to COMAC, Sichuan ranksroughly fourth in the country after provinces such as Jiangsu and Shaanxi.Chengdu has more than 300 aviation manufacturing-related companies, includingA-share listed Chengfei Integration, ADF Technology and AILEDA, as well asChengdu Institute of Aircraft Design, CEC Avionics, and Chengfei Civil AircraftCompany, which is involved in the C919 program, ranging from aircraft design,R&D, to parts and components and complete aircraft manufacturing.
The organizational structure of COMAC'sofficial website shows that it has three regional subsidiaries, namely SichuanCompany, America Limited and Dongying Base for test flights, and at the same time,COMAC is also the largest shareholder of Chengdu Airlines, which represents theexistence of close ties between Sichuan and COMAC. Another fist product ofCOMAC domestic regional airliner ARJ21, its largest user, with the largestdomestic private aircraft fleet, is also Chengdu Airlines.
Data released by the Sichuan ProvincialBureau of Statistics shows that from 2017-2021, the province's aviation,spacecraft and equipment manufacturing industry added value grew at an averageannual rate of 21.6%, which is the fastest-growing high-tech industry.Currently, the output value of Sichuan's aviation and combustion engineindustry has reached 200 billion yuan.
In order to consolidate this achievement,Sichuan is from strengthening scientific and technological research to promotethe development of aviation equipment manufacturing industry, and has beenjointly with the Aviation Industry Group to the Ministry of Science andTechnology to submit the National High-end Aviation Equipment TechnologyInnovation Center to apply for the preparation of the center, if the center issettled, then the local aviation manufacturing industry will be more on thenext level.
In the "14th Five-Year" CivilAviation Development Plan, Chengdu is listed as one of the four world-classairport cluster cities in China, together with Beijing, Shanghai and Guangzhou.A major reason behind this is the high throughput of Chengdu Shuangliu Airport.The 2021 National Civil Transportation Airport Production Statistics Bulletinshows that Chengdu Shuangliu Airport has the second highest throughput amongthe 248 transportation airports in China's mainland region, second only toGuangzhou Baiyun Airport.In June 2021, Chengdu's new airport, TianfuInternational Airport, was officially opened, and Chengdu will be even moreactive in the field of aviation hubs in the future.
How can the advantages of an aviation hubbe transformed into advantages in aviation manufacturing? The pure serviceindustry into a higher technology manufacturing industry, Sichuan has found adifferent path of development, that is, focusing on the development of aviationmaintenance industry, and strive to "in Chengdu for the world to repairthe aircraft".
It is reported that at present, Chengdu'saviation maintenance enterprises have reached 18, including Sichuan AircraftMaintenance Engineering Co., Ltd. and Beijing Maintenance Engineering CompanyChengdu Branch, etc., with an annual output value of more than 6 billion yuanin 2021.In November 2021, the maintenance base of domestic civil aircraft wasofficially put into use in Chengdu Shuangliu Pilot Free Trade Zone in Chengdu'sLarge Aircraft Industrial Park, and Chengdu has a specialized location to carryout maintenance for the entire ARJ21 aircraft.
05
Hunan: investing heavily to seize the large aircraftsupporting industries
In November 2021, Changsha, Hunan Provincereleased the "Three-Year Action Plan for Promoting the Development ofLarge Aircraft Industry (2022-2024)", which made clear its determinationto develop the supporting industries for large aircraft.
It proposes, among other things, that by2024, it will strive to multiply the scale of the large aircraft industry toexceed 50 billion yuan, drive the gathering of 200 aviation upstream anddownstream enterprises, introduce 20 enterprises above the scale in the fieldof aviation, create five brands of aviation key parts and materials, andcultivate three service and operation units; and makes it clear that since2022, Changsha will lie 80 million yuan to establish a new municipal largeaircraft industry development Special funds, focusing on supporting thedevelopment of aviation new materials, airborne systems, aircraft takeoff andlanding systems, avionics systems, electromechanical systems, advanced basic technology,maintenance and testing, product support, industrial technology research andother related areas. Under the Changsha City Industrial Investment Fund, a 1billion yuan sub-fund for the development of the Changsha City Large AircraftIndustry has been set up to cultivate industrial projects and scientificresearch projects.
A closer look at the current aviationmanufacturing field in Hunan Province, related enterprises, only Bo Yun newmaterials and other enterprises in the upstream and midstream, thecompetitiveness of the national scope is not prominent, with the policy andfunding tilt, whether to achieve a breakthrough, the emergence of a number ofindustry chain advantages of the enterprise, and wait and see.
Large aircraft industry chain is long, highvalue-added, is attracting more and more private enterprises and regions toenter. Although the C919 has not yet done completely domestic, but the marketgenerally believe that it will be the same as the high-speed rail, from theairframe, integrated systems, airborne systems to the engine, and graduallyrealize the localization of substitution, at that time, China will really pickthis "industrial crown jewel".